BARCODE SCANNERS, MOBILE COMPUTERS AND PRINTERS
TRAFFIC™ is a mobile computing, barcode and RFID solution that can operate with just about every hardware manufacturer of mobile hardware for ADC (automated data collection) and printing.
Use TRAFFIC™ Software to assist in optimizing your warehouse operations by using advanced automated barcode wireless devices and RFID Technology. By linking your warehouse or shop floor to your business systems you can access real-time information and increase your supply-chain visibility.
Barcode data collection equipment and printers are offered by a variety of manufacturers.
Here are a few models of each category. For more information contact us.
Zebra
MT2000 Wireless Scanner
Combines advanced 1D/2D barcode, DPM and image capture with the ability to key in and view data – plus 802.11a/b/g and Bluetooth connectivity options.
Honeywell
Voyager 1202g-bf Wireless Scanner
The Voyager™ 1202g-bf single-line laser scanner is the world's first supercapacitor-powered barcode scanner. That means it's battery free ("bf") for a green, environmentally friendly scanner that frees you from the maintenance hassle, long recharge time, and disposal issues associated with traditional batteries.
Honeywell
CN80 Barcode Mobile Computer
Honeywell handheld computers combine the advantages of consumer PDAs and high-end industrial mobile computers into a single rugged package
Whether you're transitioning to touchscreen capabilities or you're key-dependent due to the nature of your business, the Honeywell Dolphin™ CN80 handheld computer can help you improve the speed and accuracy of operations while positioning you for the future. This rugged Android™-compatible handheld computer features full-touch capabilities plus real keys for fast data entry at high transaction rates even in severe settings. The Dolphin CN80 is also an Android Enterprise Recommended device, meaning it's rugged, built to deploy easily in the field.
Honeywell
ScanPal EDA51 Barcode Mobile Computer
The ScanPal™ EDA51 mobile computer, built on Android™, features the perfect combination of integrated scanning, powerful processing, intuitive touchscreen interface, and robust connectivity in a rugged, slim ergonomic design.
Honeywell
CK3X Barcode Mobile Computer
With high-performance, omnidirectional scanning and industry-leading battery life, the rugged CK3X Mobile Computer streamlines workflows and enhances the performance of your workforce.
Microsoft Windows Embedded Handheld built on Windows 6.5.3 technology
Optional RFID reader is available.
Zebra
MC9300 Barcode Mobile Computer
The Ultimate Android Ultra-Rugged Mobile Computer
Take productivity and efficiency to the next level in your warehouse with the next evolution in the world's best-selling industrial computer.
Honeywell (formerly Intermec)
PM43/PM43c BARCODE PRINTERS
The PM43/PM43c/PM23c (101.6 mm/4 in) and PM23c (50.8 mm/2 in) Mid-Range Industrial Printers deliver proven reliability, fast drop-in deployment and integration, and advanced connectivity to maximize your uptime. They're ideal for applications in distribution centers, warehouses, manufacturing operations, and transportation centers.
Honeywell
MP SERIES BARCODE PRINTER
COMPACT 4 MOBILE MARK III
MP Series printers are unique. Deceptive even. That's because these compact industrial label printers do as much as their larger counterparts yet take less then half the space of traditional industrial label printers.
These high achievers are tough, too. But they don't shout about it. MP Series printers are protected by an all-metal casing that's ideal for harsh industrial environments, yet they're quiet and small enough to operate in low noise environments such as an office or hospital.
MP Series printers are perfect for tight quarters with limited workspace. They set up nicely on a desktop or conveniently mounted on walls and mobile carts.
You can also mount them directly onto forklifts. Doing so can substantially increase labor efficiency, reduce errors and provide quicker processing. And the optional 802.11 A/B/G/N wireless LAN makes it easy to connect to networks and for mobile printing operations.
You can also use MP Series printers in almost any orientation, including upside down. Their large, easy to manage levers, single-handed media removal and open covers make MP Series printers the next generation in ergonomic printer engineering.
Zebra
ZT400 SERIES INDUSTRIAL BARCODE PRINTERS
The ZT400 Series is designed for durable, reliable printing in tough environments. Loaded with advanced features, RFID capabilities and Zebra's Link-OS environment, the ZT400 is ideal for a wide array of applications.
ZT400 printers feature USB, Serial, Ethernet and Bluetooth® connectivity along with expanded RFID capabilities.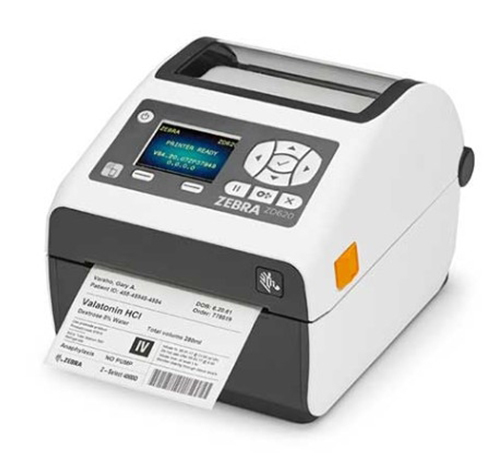 Zebra
ZD620 SERIES DESKTOP BARCODE PRINTERS
When print quality, productivity, application flexibility and management simplicity matter, the ZD620 Series delivers. Available in both direct thermal and thermal transfer models, the ZD620 advances the legacy of the industry-leading GX Series printers. These premium models bring advanced industrial printing quality to a compact desktop printer, offering the fastest print speeds, print quality and manageability in its class.